Culden Faw Estate
Culden Faw is a quintessential English estate, 3,500 acres of mature woodland, pastures, parkland and chalk valleys. The estate runs across South Oxfordshire, Windsor and Maidenhead and is split by the Thames. Formed by the amalgamation of Culham Estate, Hambleden Estate and Henley Park, its history can be traced back to the Domesday Book.
Today, the estate is run on a commercial basis by the Culden Faw Estate management team and includes property preservation, development and strategic works, with a focus on diversifying and enhancing the estate. Derelict sites are being brought back into use to create new revenue with which to support the ongoing maintenance and custodianship of the land.
S&P have worked for the estate since 2008 and have helped deliver several firsts, including a new dwelling on land covered by a National Trust Restrictive Covenant in the picturesque and historic village of Hambleden, a new build headquarters on agricultural land and within an Area of Outstanding Natural Beauty (AONB) and a new estate office replacing agricultural barns in the curtilage of Fawley Court Park, a registered Grade II listed asset.
Working closely with the Culden Faw Estate team our schemes consider the Corporate Social Responsibility of projects regarding the impact of work on the local community, the environment, infrastructure and eco-systems, from the view of long-term stewardship of land and buildings, all within the context of a sustainable rural community. We have found that early stage community engagement positively influences the success of proposed schemes at a statutory level and also in meeting user demand.
Working with relevant specialists, we have successfully coordinated the implementation of projects that incorporate the very latest green technologies, Sustainable Drainage Systems (SUDs) and ecological and biodiversity benefits, while protecting and enhancing habitats for protected species such as barn owls, bats and great crested newts.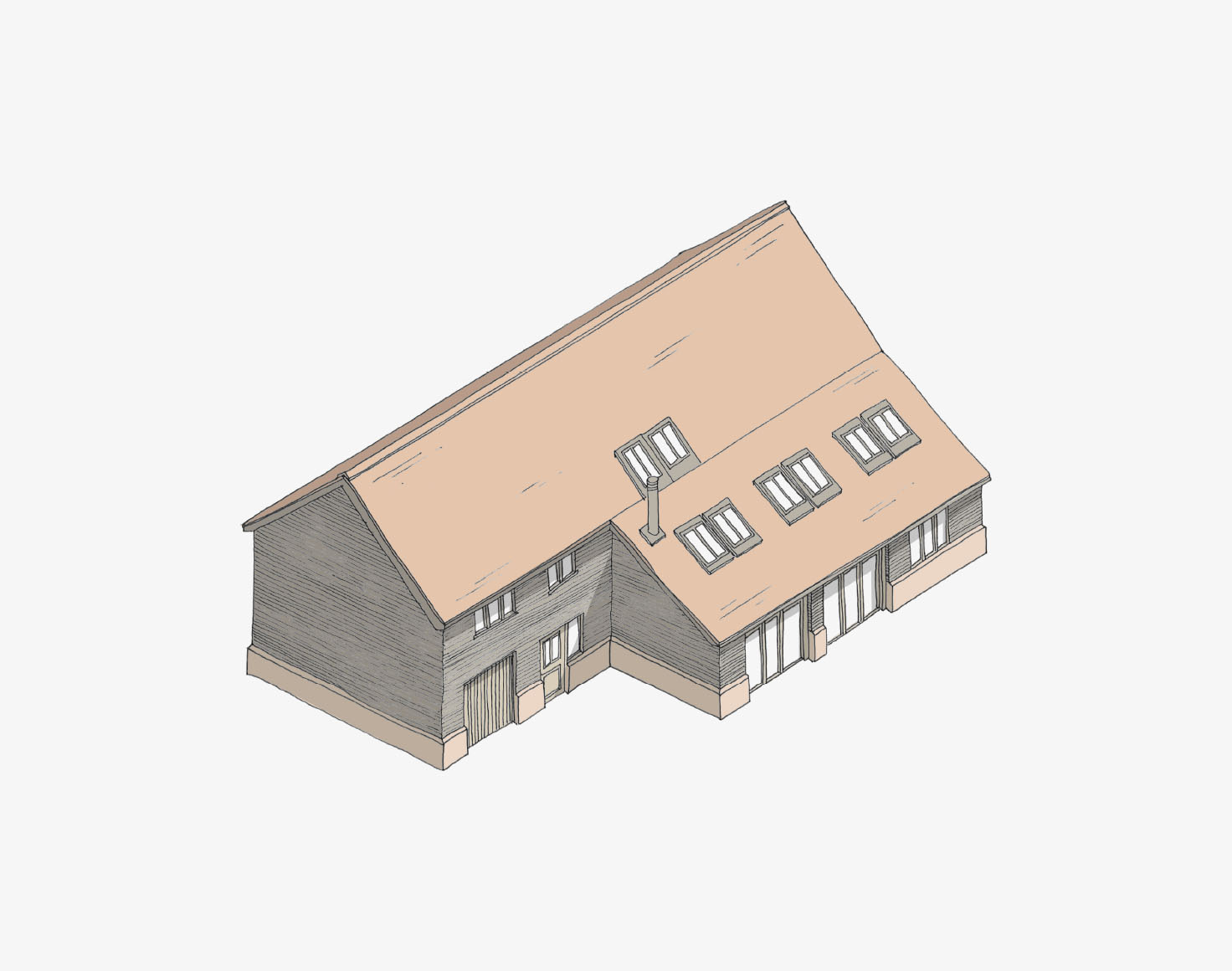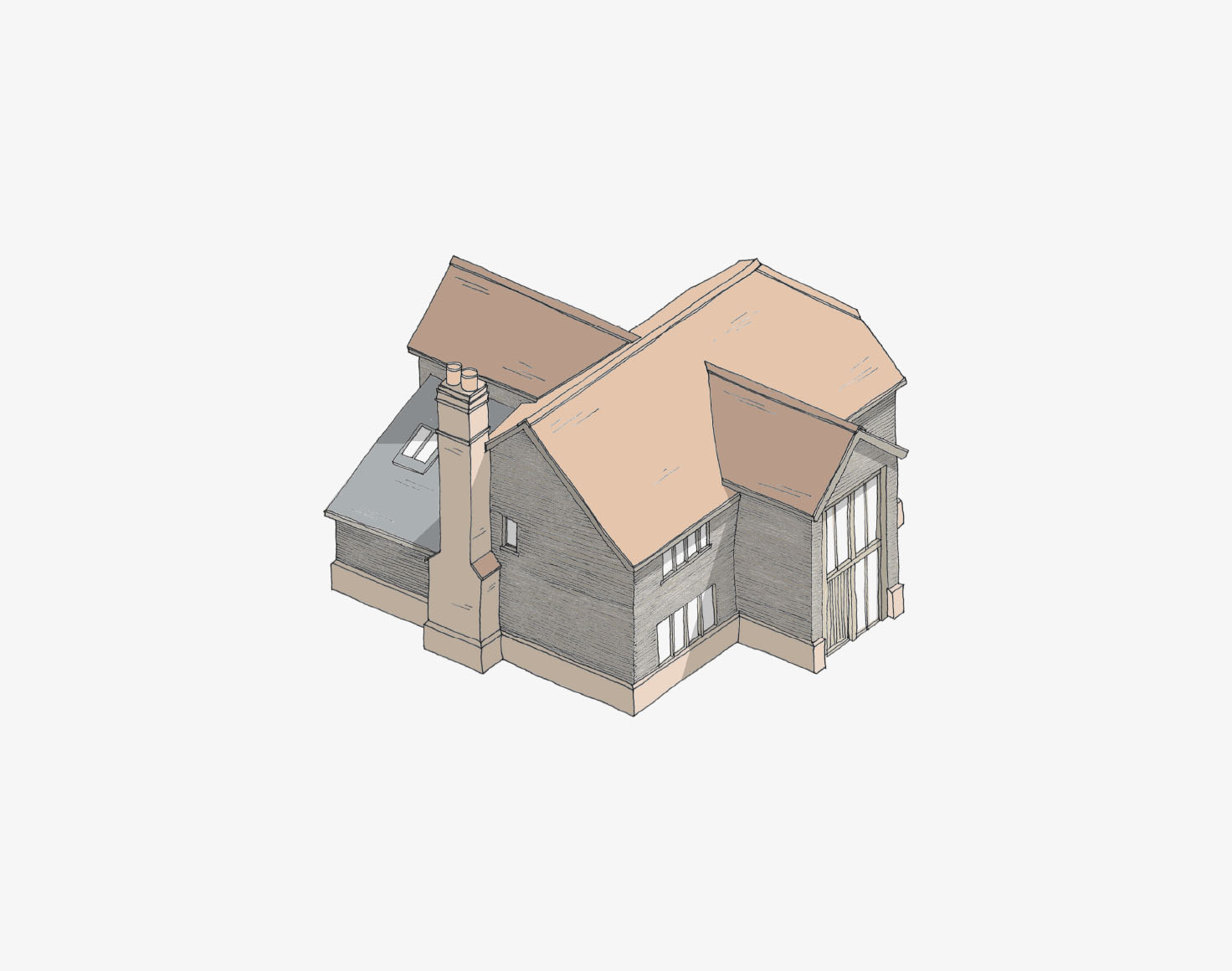 Old telephone exchange, Hambleden (818 sq.ft) Conversion and extension of redundant telephone exchange building into a two bedroom home at the edge of the Hambleden valley.
Sawmills, Fawley (4,650 sq.ft) Replacement of a woodyard at the edge of the historic Fawley Court estate with a new build timber framed office building. This was a low carbon construction including the timber frame construction, rainwater harvesting and reuse of greywater.
The Wing, Henley-on-Thames (35,000 sq.ft) New build headquarters on agricultural land and within an Area of Outstanding Natural Beauty (AONB), with the addition of 2000 new oak, beech and lime trees and 200m of mixed hedgerow.
New build home, Hambleden Village (1,248 sq.ft) Demolition of a fire damaged building to be replaced with a new build home within the restrictions of the National Trust covenant covering the village and requiring close consultation with the Environment Agency. A very constrained development.
Dairylane Farm, Hambleden (7,000 sq.ft) Planning consent for modern agricultural barns built by the estate and used as light industrial units.
Frogmill, Hurley (26,037 sq.ft) Conversion of livery buildings and demolition of former piggeries to create 12 new homes. The biodiversity net gain for this project was 1000%, due to new drainage pond, planting and meadows, alongside new bat roosting habitats. Previous hard standing now incorporates green space and the scheme will be net zero carbon, enabling offset payments to the local authority.
Sheephouse Stud, Henley-on-Thames (5,812 sq.ft) Derelict oak-framed barns converted to two new homes with views across the Black Bears polo fields, working within the constraints of flood risk and conservation principles that retain the form and external setting of the original barns.
Middle Culham Farm and Colt House, Culham Court, Aston Major refurbishment scheme to bring the farmhouse back to use, and extension to a separate house, all within National Trust Covenant and greenbelt constraints.